Wildfire in the forest Every year, wildfires burn across the U.S. and more and more people are living where wildfires are a real risk. Last year, a total of 4,312 structures were destroyed by wildfires, including more than 3,000 homes and more than 70 commercial buildings.
A rooftop sprinkler system Ember-S-Guard is adapted to protect homes from falling embers in the case of a wildfire or bushfire. It is also foreseeable that an owner can use the Embers Sprinkler System to wet the rooftop of houses on a hot day to cool down the house, for general irrigation purposes, or wet summer fun.
more:
---
Ensure your building's safety with a roof-top EMBERS sprinkler system
To date in 2017, the U.S. has seen more than 56,000 wildfires burn more than 9 million acres of land, according to the National Interagency Fire Center. States currently reporting large fires include Arkansas, Kansas, Kentucky, Missouri, Oklahoma and Pennsylvania. Seasonal Santa Ana winds are currently being blamed for fueling wildfires burning across Ventura County and Sylmar in Southern California, forcing thousands to evacuate. NFPA provides a number of resources to help residents prepare before a wildfire threatens. Additional information can also help neighborhoods plan for an evacuation and what to do once you return home.
---
Be protected. Be safe!
In a wildfire event, most structures are lost due to ignition by flying embers. The elevation and the wildfire driven by winds without a fire break such as a huge field, creates immense danger to the area under wildfire attack. Due to these factors, any initiation of wildfire in the community would be caused by flying embers rather than direct flame spread.Wind-blown embers, which can travel one mile or more, are the biggest threat to homes. In all reports most homes are burned as a result of wind blown embers.
Roof Condition: Homeowners should always have a Class A-rated, fire-resistant roof cover or assembly. Once a falling ember burns out the firebrand should not burn through to the roof deck and flames and spread to other parts of the roof. Without a fire-resistant roof, the protecting of your home will fall short. Placing Embers-guard rooftop sprinkler system increases your chances to defend your home from flying embers.
Usually Unprotected pathways allow burning embers to get inside the house, including vents (soffits, attics, crawl spaces or wall vents) or broken, single-pane windows exposed to wildfire conditions  Any wood structure connected to the house or close to the house, if combustible, will support flames or glowing embers to reach the roof and start a fire. By wetting the wood structures you will have a better chance to save your home. Homeowner should always view their property from all angles. Homes are burned in a wildfire due to numerous factors; homeowners must consider and establish a systematic defense and preparedness approach.
Embers-guard roof sprinkler system's portability and capabilities becomes ONE LINK OF MANY IN THE "CHAIN OF WILDFIRE SURVIVAL"
Southern California's Thomas Fire now largest in state history
The so-called Thomas Fire has burned 273,400 acres in Ventura and Santa Barbara counties since it broke out on Dec. 4, according to the California Department of Forestry and Fire Protection. Hundreds of homes have been destroyed and the fire is blamed in two deaths. 
The previously largest wildfire in California since reliable records have been kept was the Cedar Fire that burned 273,246 acres in San Diego County in 2003, according to the department, also known as Cal Fire. That fire killed 15 people and destroyed more than 2,800 homes and other structures.
Protect Your Home From Ember Attack

BE EMBER AWARE! Will your home be prepared when the embers arrive?
When wildfires rage, it's easy to imagine that homes are destroyed simply by being in the direct path of the blaze. However, many homes catch on fire because of small embers which can be blown ahead or around the fire for considerable distances. These embers may be small but they have the ability to set homes alight if they don't have adequate ember protection.
The simplest way to prevent an ember attack is to remove any items that may be vulnerable to being set alight by embers. This includes any debris in your gutters, and flammable fuel that's been stored in the vicinity of your home and dead or dry fire fuel such as sticks, firewood or garden waste.
Embers have also been known to ignite homes by entering through small exterior openings such as gutters, under doors and air vents. These openings can be protected from ember attacks by covering them with wire mesh or installing ember guards that are now being manufactured.
If you'd like to install a rooftop sprinkler system on your home or you'd simply like an assessment of your home's fire safety, then you are in a right place!!!
---
About Rooftop Fire protection sprinkler Embers Guard™
Original Assignee  Martin & Co.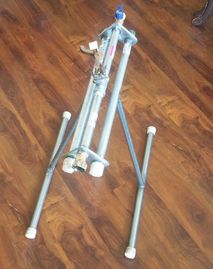 The present invention is a fire protection system which can be mounted on any uneven or odd shaped surface of a roof without requiring any additional mounting apparatus. The Embers-Guard Sprinkler protection system has a plurality of sprinkler assemblies connected together in series. Each sprinkler assembly has a water manifold pipe, a pair of H-shaped supports, and a sprinkler head connected to the water manifold pipe. TRIANGLE plate affixed to upper ends of the legs for pivotally connecting the H-shaped legs to the water manifold pipe. Locking hex nuts extends through respective plate slots and locking the H-shaped legs in a selected pivotal angle of adjustment (180 degree for each leg). During use, the support legs of the front and rear H-shaped supports are supported by front and rear roof sections of a house with the apex of the roof extending between the pair of H-shaped supports. Also it can be easily mounted on the rails of the fence, or any uneven or odd shaped surface.